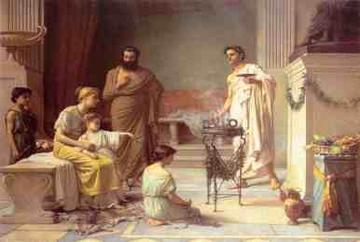 The Classical religious community in Byzantium Novum is rebuilding ancient worship as a modern path. We believe that ancient spirituality preserves important Wisdom and maintains an essential link between the World and the Divine.
We primarily honor the Goddesses and Gods of ancient Greece and Rome. We also make provision for other pantheons present in the Classical and Byzantine worlds including those of the Celts, Egyptians, Persians, Norse, etc. For centuries the Eastern Roman Empire was one of the most diverse religious environments in history. Byzantium itself was founded with an edict of religious tolerance for all religions, issued by the Emperor Constantine in 311 AD.
We sadly acknowledge that the original idea of tolerance did not prevail and that during the Byzantine Era the Pagan Temples were forcibly closed and ancient ritual forbidden. Yet we know there were those who remained faithful to the ancient ways and continued their worship in private as best they could. There is evidence that those who had served as Priesthood in the Temples moved their devotions to their home altars, in the hopes that private devotion would carry civilization through until the public Temples could be restored. We continue such traditions and keep that ancient dream alive.
We believe that restoring personal piety and worship is the most important step restoring our link to the ancient deities - and for renewing the ancient traditions themselves. To that end we are actively seeking the help of those who are interested in acting as official Classical Priesthood in Byzantium Novum. Together we can preserve and restore the worship of the ancient Goddesses and Gods.
---
BECOME A PRIESTESS OR PRIEST OF BYZANTINE PAGAN RELIGION
If you are dedicated to the worship of the ancient deities of the Classical world, we invite you to become an official Priestess or Priest of the Classical Era Religion in Byzantium Novum!

TO JOIN THE PRIESTHOOD:

I. Become an official Citizen of Byzantium Novum.
II. Read and agree to abide by the Declaration of Byzantine Paganism.
III. Join the Classical Religion Forum in Byzantium Novum and volunteer to be a Priest or Priestess. We will be happy to work with you!
---
The basic duties of Priesthood in Byzantium Novum are simple:
1. We ask that our Priests and Priestesses to perform rites to their chosen deity at least once each month.
II. When you do a rite to your chosen deity, we ask that you announce it to the Classical Religion Forum.
These two simple steps are the most important function of priesthood. We believe that it is crucial for ritual to be done, and for those rituals to be part of public record. If you can follow a written ritual at your home altar at least once a month you can serve as a member of the Classical Prieshood in Byzantium Novum!
There are of course other duties that a member of the Priesthood can perform, and those who wish are certainly invited to expand their service as a Priest or Priestess. Members of Priesthood are also invited to:
-To pray for the well being and success of Byzantium Novum as a nation as part of those rites. (Prayer for the nation was decreed for all religions by Constantine, and that ancient edict is still followed in Catholic and Orthodox churches today, so we should continue it as well.)


- To publicly promote the worship of their deity as is possible, through education, public rituals and by providing religious assistance to others.


-To show a public presence by being active in the Byzantine Pagan community.
Members of the Priesthood are invited to expand their service as they are able. But the two basic duties are the most important. Rituals need to be done, and those rituals need to be announced so others may know rituals are being performed!


CURRENT PRIESTHOOD IN BYZANTIUM NOVUM
Pontifex Maximus and Priest of Jupiter/Zeus - Marcus Cassius Julianus
Priestess of Vesta/Hestia - Amma Doukaina
Priestess of Sulia Minerva - Helena
Priest of the Dii Imperii - Origen Kamber

PRIESTOODS TO ALL CLASSICAL AND BYZANTINE ERA
DEITIES ARE AVAILABLE IN BYZANTIUM NOVUM:

Roman Prieshood - All Deities including:
Jupiter
Juno
Minerva
Poseidon
Mars
Mercury
Venus
Vesta
Pluto
All minor deities
Imperial Cult (worship of the divine Emperors)


Greek Priesthood - All Deities Including:

Zeus
Hera
Athena
Poseidon
Ares
Hermes
Hestia
Pluto
All Minor deities
MYSTERY CULTS AND PROVINCIAL RELIGIONS

Mystery Cults - All Deities Including:
Mithras
Isis
Bacchus
Demeter/Persephone
Hercules
Antinous


Egyptian Priesthood - All Deities Including:
Amun
Osiris
Isis
Horus
Hathor
Sekhmet
Anubis
Ptah
Thoth

Eastern Priesthood - All Semetic deities Including:

Bel
Ishtar
Tanit
Ashera
Iarhibol
Aglibol

(While the Persian Empire was in conflict with Byzantium, the Byzantine Empire was present in many Eastern areas including Palmyra)


Norse Priesthood - All Norse deities Including:

Odin
Thor
Freya
All Minor Deities

(Vikings became the Varangian Guard, and there were many Rus who lived in Byzantine territory)
The Classical Religion in Byzantium Novum is working to rebuild the worship of ALL Goddesses and Gods of Classical Rome and Greece, as well as the other pagan faiths which were part of the Byzantine Empire. If you have questions on joining the Classical Priesthood in Byzantium Novum, contact
Marcus Cassius Julianus.